Gurudwaras of Pakistan show the true love of Pakistan for Sikhs. The Sikh Gurudwaras of Pakistan and Buildings including Havelis of cultural heritage have been systematically destroyed. Many Gurudwaras of Pakistan have been illegally occupied by Islamist Radicals and are using them as their residence. Thousands of acres of Land belonging to different Gurudwaras of Pakistan are illegally occupied by Islamist Radicals who do not let Sikh Devotees go near the historic Sikh sites. Many of the historic gurudwaras are in dilapidated state that local Islamist Radicals have even stolen the bricks from the Gurudwaraswalls to construct their own houses. In most of the Historical Gurudwaras, the holy scripture of Sikhs "Guru Granth Sahib" is not allowed to be kept. Sikh devotees are not allowed to do Karsewa or serve Langar (free food service). The Land of Punjab in Pakistan where Sikh Gurus were born and spent most of their time are occupied by the descendants of the same radical Islamists who killed the Sikh Gurus for their refusal to convert to Islam.
We bring to our readers the saga of a few of the Sikh Historic Gurudwaras of Pakistan and the buildings of Sikh Cultural Heritage that have been destroyed by the Islamist Radicals in Pakistan.
Guru Nanak Palace
Local muslims have partially demolished a four-storey, over 4 centuries-old 'Historical Guru Nanak Palace' in village Bathanwala, on New Lahore Road with connivance of auqaf dept officials & even sold its precious windows, doors and ventilators.
Its construction comprised old bricks, sand, clay & limestone. There were 16 large rooms in building all of which had 3 beautiful doors & at least 4 ventilators Rooms constructed with large broad walls with cupboards in them that had wooden doors with flowers carved on them.
All the rooms were airy and their walls had small lamp enclosures in them. Diyar wood beams of various sizes were used in the roofs; the wood costs thousands of rupees per foot. DC, ETPB, building 'owner' clueless about its ownership
3-foot-wide & sturdy walls surrounding the building were made of small old bricks in beautiful designs & intricately painted with pictures of Baba Guru Nanak, founder of Sikhism & various Hindu rulers & princes. There were stairs on 3 of the 4 sides of building going to the roof.
Local resident, Muhammad Aslam, said: "This old building is called the Palace of Baba Guru Nanak & we have named it Mahalan. A number of Sikhs from across the world, including India, used to visit this building." Punjabi dominated Pakistan brutally denied all requests to Give it to Sikhs.
As per a local eye witness, Once a 6-member delegation, including a woman carrying a large book with information about the historical building, visited from Canada. The delegation was elated at visiting the site as if they had found a treasure. No official of auqaf dept took any action or visited.
3 storeys of the building have already been demolished & new houses constructed. The influentials have demolished the building with the connivance of the auqaf dept & sold its costly windows, doors, ventilators & wood. In 70 years Pakistan cannot deny ignorance. It's deliberate.
Similar news also appeared in another news site about Demolition of over 4 Centuries-old "Guru Nanak Palace" by Pakjabi Muslims in Pakistan. Pakistan has always denied Land of Gurus for Khalistan.
Most of the places of worship belonging to the minorities in Pakistan were in a bad condition. Most of them have been taken over by Partition refugees and transformed into houses. "Over the years, these buildings have lost their architectural heritage.
Gurudwara Chhevin Patshahi, Jhalian Distt Lahore
Gurudwara Chhevin Patshahi, Jhalian Distt Lahore is a sacred place in the village which was touched by the feet of Sat Guru Hargobind Ji. Gurdwara was a beautiful structure and was constructed like a govt bungalow with a verandah in front and with two rooms at the back. 8 ghumaon Land was endowed by the villagers to the shrine. However after the Partition in 1947 between India and Pakistan, the sacred Sikh Gurdwara was occupied by Islamist Radicals and converted into their residence. A Muslim family now resides in it.
Gurudwara Shahid Ganj Sighnian, Lahore
According to some historians, about two and a half lakh Sikhs-Sikh women folk, young and old Sikhs and Children were martyrised here. As the women suffered most to immortalism on account of their heroic deeds, it was named Gurdwara Shahid Ganj Singhnian. In march 1764, when Mir Manu assumed the governorship of Punjab, he announced to exterminate the Sikh's root and branch. At his orders, the Sikhs were imprisoned and brought here to be killed. It is here on the basement, that the devoted women were made to mill grain. Their children were butchered mercilessly and garlands, made of their severed limbs, were put around their necks. When Diwan Kaura Mal's men gave assistance to Mir Manu in Multan expedition, they got possession of this place. The Sikhs started reciting Sri Guru Granth Sahib (religious book of Sikhs) at this place and a Gurdwara was constructed. It gained importance when the sardars of the Bhangi Misl captured Lahore. Shere-i-Punjab, Maharaja Ranjit Singh also used to visit this shrine twice or thrice a week to pay his homage. The Maharaja granted a Jagir to this Gurdwara but the management remained with the Mahants. On 1st December A.D. 1934, Shiromani Committee got the management of this historic holy place. But after partition, this place was abandoned. At present, the management of this place is with the Waqf board. Although the building is in a good condition but the Islamist Radicals do not allow Guru Granth Sahib to be placed in the Gurdwara.
Shahid Ganj Bhai Mani Singh, Lahore, Pakistan
By 1737, the Mughal government of Lahore had strictly prohibited Sikhs from visiting Amritsar and bathe in the holy tank. To overcome this restriction, Bhai Mani Singh appealed to Governor Zakariya Khan for permission to hold the Diwali festival at the Golden Temple. The permission was granted against a payment of Rs5000 to the governor. Bhai Mani Singh was sure that he would be able to pay the sum out of the offerings that would be made by the Sikhs who were invited to come. The Sikhs came in large numbers, but Zakariya Khan, under the excuse of keeping order, sent a force under Diwan Lakhpat Rae to Amritsar. It marched towards the city on the day of the festival in order to intimidate and disperse the Sikhs and the festival broke up at the approach of the Mughal army.
Bhai Mani Singh was arrested for not paying the stipulated sum. As a punishment the Qazi asked him to embrace Islam or death. Bhai Mani Singh stalwartly refused to trade his faith and courageously choose death. By orders of Zakariya Khan, Bhai Mani Singh was executed at Nakhas, Lahore in December, 1737 AD. The Nakhas has since been known as Shaheed Ganj — the place of martyrdom. The place Nakhas is located in Landa Bazaar opposite Delhi Gate of Lahore. At the place in A.D. 1724, Bhai Mani Singh was martyred as the Muslim executioner dismembered his body joint by joint.
This resulted in a gruesome execution in which Bhai Mani Singh's executioner was ordered to chop Bhai Mani Singh's body to pieces joint by joint starting from the extremities. The irony of the execution was that Bhai Mani Singh had the last word. When the executioner started to cut into Bhai Mani Singh's wrist, Bhai Mani Singh gestured to his fingers telling the executioner that he should follow the orders of his commander with strictness, like a true Muslim. Very puzzled by the interruption, the executioner and guards asked the Great Shaheed what he meant. Bhai Mani Singh replied, " you have been ordered to execute me by chopping my joints, have you forgotten that my joints start with my fingers".
According to Sikh history, Bhai Mani Singh acted as scribe when at the age of 14 Guru Gobind Singh the then Guru of the Sikhs — dictated Sri Guru Granth Sahib. He also transcribed many copies of the sacred Sikh scriptures which were sent to different preaching centers in India.
After bieng martyred, the Sikh's were thrown into a nearby well.
Though he was punished to death at Chowk Nakhas near Delhi Gate, his disciples built the Samadhi nearby, inside Masti Gate, just next to Mariam Zamani Mosque opposite the Akbari Gate of Lahore Fort.
At first the management was with the Mahants. In 1923, the local committee took over the management which was transferred to S.G.P.C. from 1927 until the partition, after which the site was locked up, as it is today.
The Samadhi has not been preserved or declared as a protected monument. At present there are encroachments hiding the Samadhi and the structure itself is corroding.
Gurdwara Chak 97 RB Johal Tehsil Jaranwala, District Faisalabad, Pakistan
Before glorifying Pakistan over Kartarpur, remember what Pakistan did to the Gurudwaras and Sikh legacy of Pakistan. We will try to share the images of some Gurudwaras in their pristine Pakistani Glory. Gurdwara Chak 97 RB Johal Tehsil Jaranwala, District Faisalabad – used as garbage dump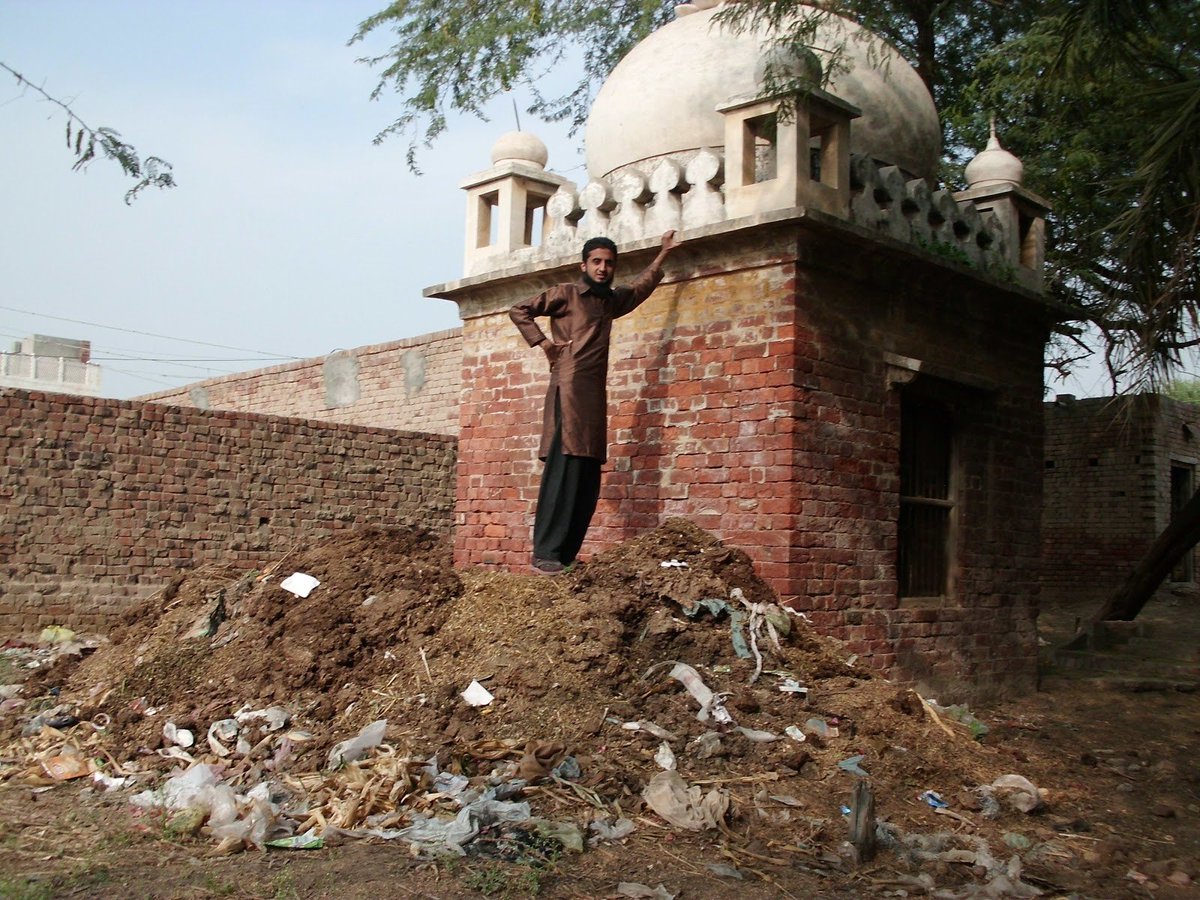 Gurdwara 'Lal Khoohi' (the well of blood)
Gurdwara 'Lal Khoohi' (the well of blood) was a historical Gurdwara located in Lahore, Pakistan, was built at the spot where Guru Arjan Dev was kept in confinement. The site housed the haveli (mansion) of Chandu Shah, the diwan of Mughal Emperor Jahangir, who had developed hatred for the Guru after he rejected the marriage proposal of the Emperor's daughter with the Guru's son, Hargobind. The Guru is believed to have spent his last days here, drinking from the well. In 1927, the SGPC took charge of the Gurudwara.
A historical gurdwara in Lahore has been turned into a Muslim shrine called 'Haq Char Yaar'. This was yet another instance of a place of worship belonging to a minority Sikh community being appropriated by the dominant Muslim population.
Gurdwara Sri Kiara Sahib
This Gurdwara is situated at a distance of one and a half kilometres from Gurdwara Janam Asthan. According to Janam Sakhi, when Guru Nanak was yet a young man, he was to graze cattle. While resting underneath a shady tree, Guru was immersed in thoughts and the cattle went astray in the fields of a farmer. On having seen this, the peasant got red with rage.
The clamouring made by the peasent disturbed the Guru from his trnace. On beholding the Guru, he got embarrassed and made a complaint to Rai Bular. The Guru drove the cattle towards his house. On his return, the Guru just had a kind look at the fields which turned green.
By watching this miracle, the Hindus and the Muslims revered the Guru. This Gurdwara is situated in that historical field. The building is large.
A boundry wall and a sarovar has been got built around the whole field. Before obtaining the management of this Gurdwara by the panth in February 1921, a trio consisting of Mahant Fauja Singh, Mahant Ujjagar Singh and Mahantani Inder Kaur, was managing the affairs of this Gurdwara. After the partition of 1947, This Gurdwara came under the Pakistan Waqf Board and is continueing as such. The holy tank stands dry and Sri Guru Granth Sahib is not opened ceremoniously.
Gurudwara Pehli Patshahi at Chohatta Mufti Baqar, Lahore, Pakistan
This historical place, known as Dharamsala of the First Patshahi (Guru), is located in Mohalla Chohatta Mufti Baqar inside Delhi gate of Lahore city. In those days the locality was known as Siryanwala Bazaar or Chohatta Jawahar Mal. In 1567 Bikrami (1510 AD) Jagat Guru Nanak Dev Ji stayed in the house of Duni Chand, one, of his Devotee. Guru Dev arrived on the day when Duni hand was performing the ritual of "Saradah" of his father. Guru Dev Ji dissuaded him from these fallacies and brought him into the folds of Sikhism. Since the house of Duni Chand was touched by the feet of the Gur Dev Ji it was elevated to the status of a Gurdwara. Mahants were responsible for its care from the very start which passed on to local committee in 1920.
From 1927-47 Shiromani Gurdwara Parbandhak Committee maintained this Shrine. It is now in the custody of Auqaf Department. The picture shows the pathetic condition of the Sikh shrine.
Gurdwara Sri Diwan Khana Sahib
This Gurdwara is situated near Chuni Mandi chowk, close to the birth place of Guru Ram Das ji. The Guru's ancestors belonged to Lahore. At the time of the marriage of one the sons his elder brother, Sahari Mal, the Guru asked his son (Guru) Arjan Dev to attend the ceremoney, as he himself was unable to attend the same. Guru Arjan Dev was instructed to stay there till he was not called back. When he was not summoned for a long time, (Guru) Arjan Dev wrote three letters to Guru-father expressing his desire for 'Guru's glance'. Two of the letters were held back by Prithi Chand but the third reached the Guru, Where in mention of the two previous letters was made. Guru Ram Das called his son Arjan Dev, back to Amritsar. This historical place was also rebuilt by Maharaja Ranjit Singh which is registered with Lahore Corporation under card No. N. 2143.
The Sikh Devotees (Sangat) used to proceed on foot from here to visit janam asthan of Jagat Guru. Its control remained with Shiromni Gurdwara Parbandhak Committee from 1927 to 1947 AD and at present it is in the custody of Waqf Department and it has settled Islamist Radicals on this Sikh religious Gurudwara shrine site.
The Sikh Devotees (sangats) cannot visit this place. Four shops and 18 ghumaon of land in Village Rana Bhatti Shahdara are endowed to the Gurdwara but are occupied by the Islamist Radicals that do not allow any Sikh Devotees to venture in the area.
Gurdwara Chak 93 RB Chitti, Tehsil Jaranwala, District Faisalabad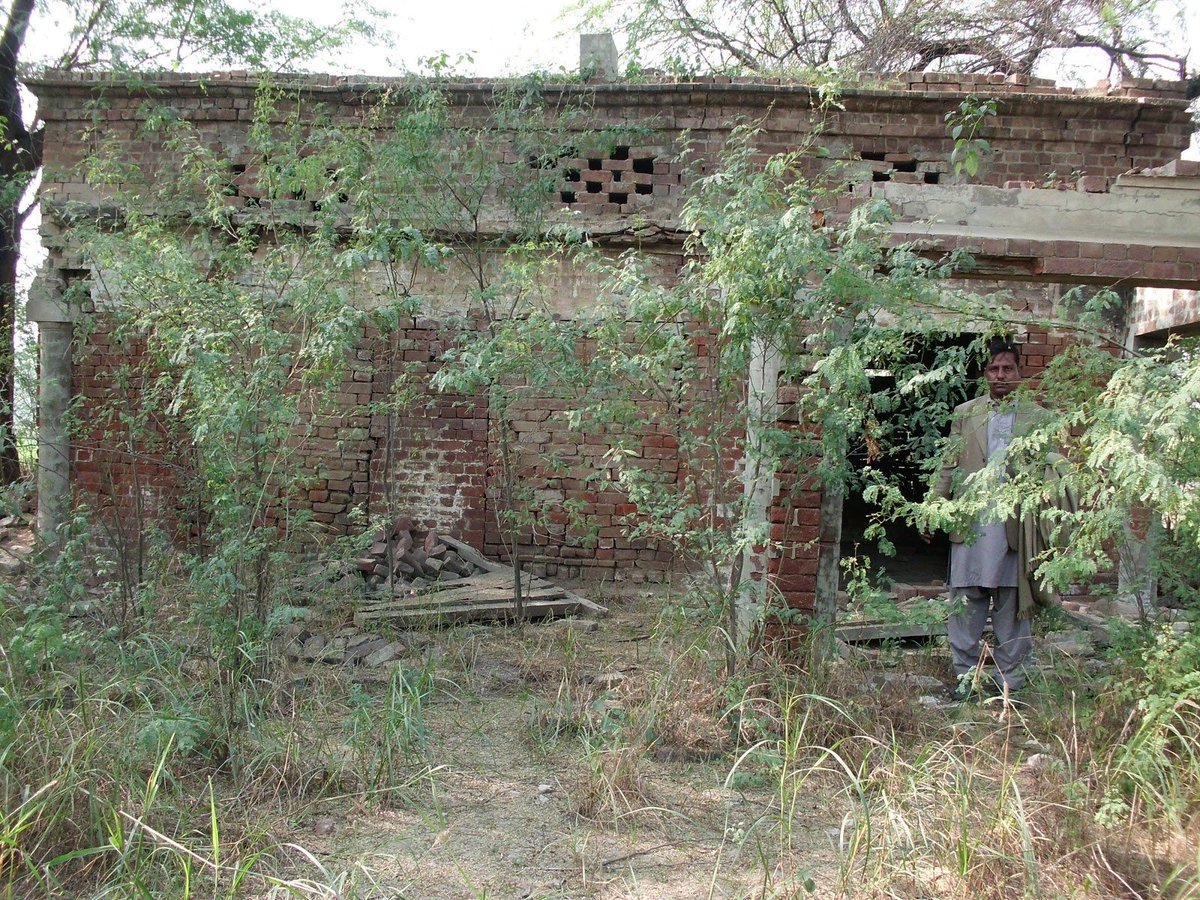 Gurdwara Chak No. 68 R.B. Kallah, Tehsil Jaranwala, District Faisalabad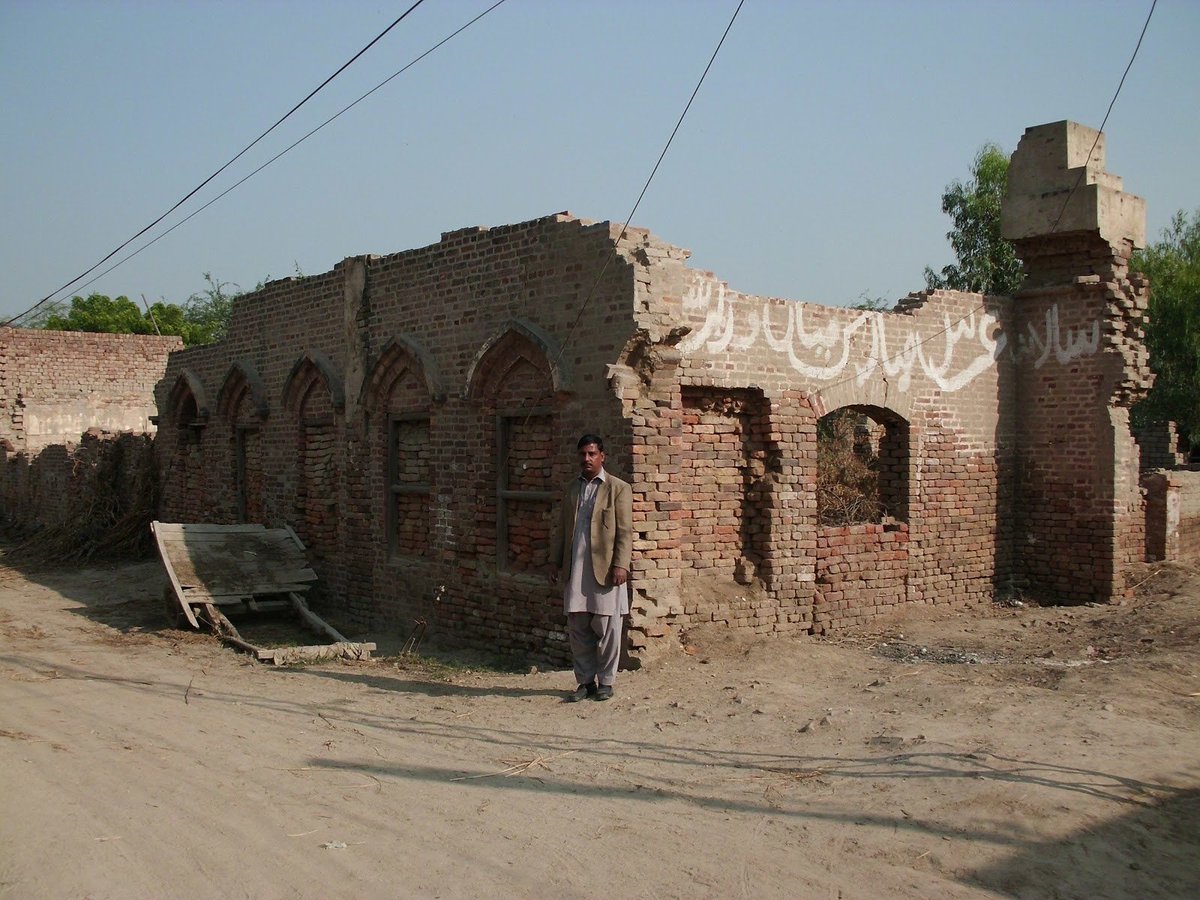 Gurudwara Damdama Sahib, Gujranwala – Annexed and converted to housing quarters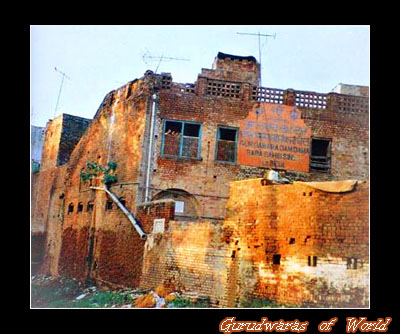 Gurdwara Pehli Patshahi, Manak, Lahore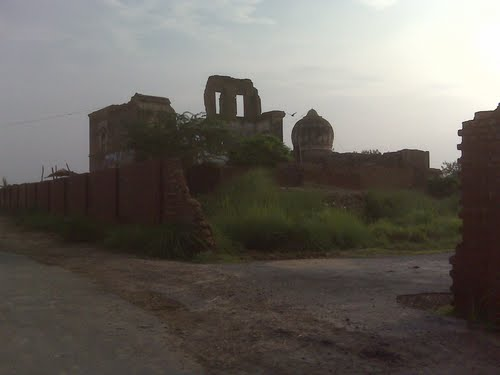 Gurdwara Chak 90 RB Chitti, Tehsil Jaranwala. District Faisalabad – used to store trash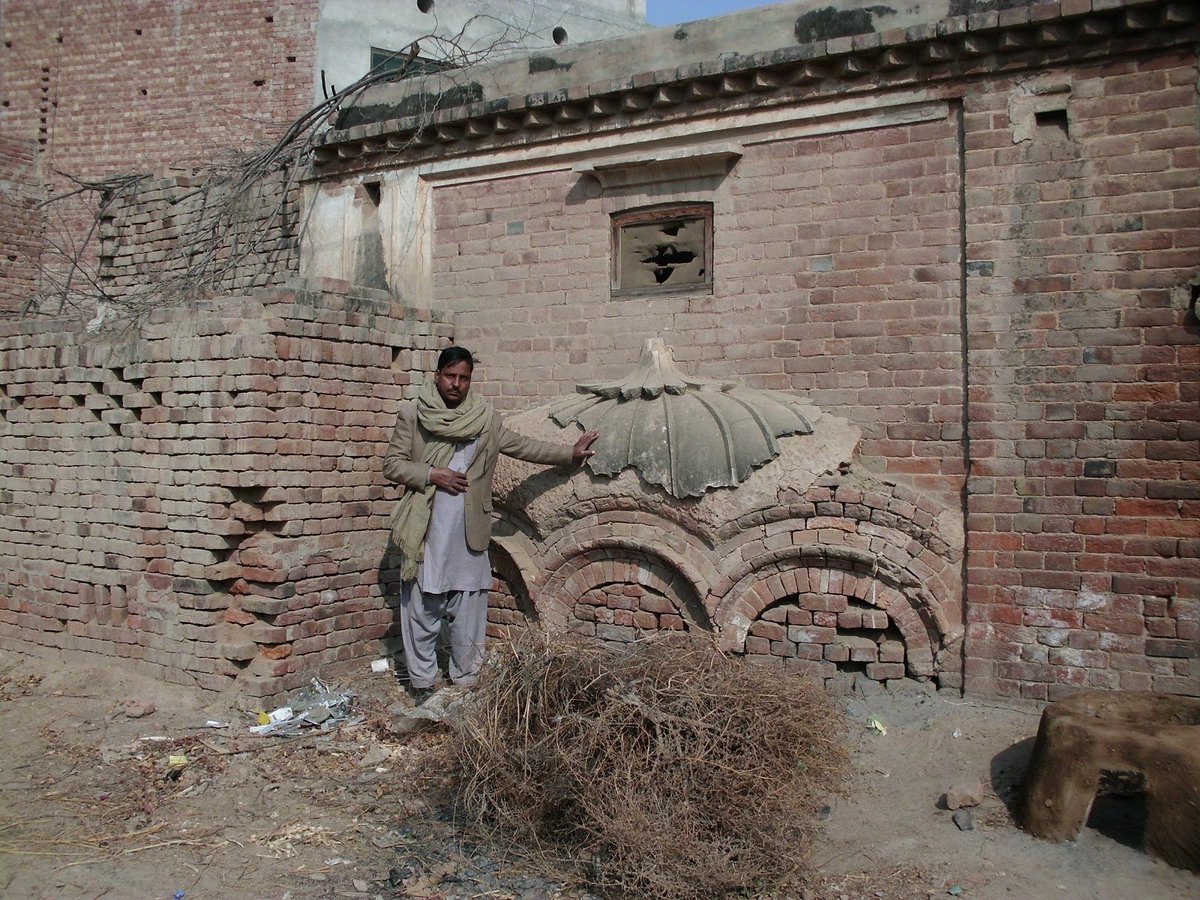 This is how Pakistanis cherish the memory of Guru Nanak after they occupy the houses of Sikhs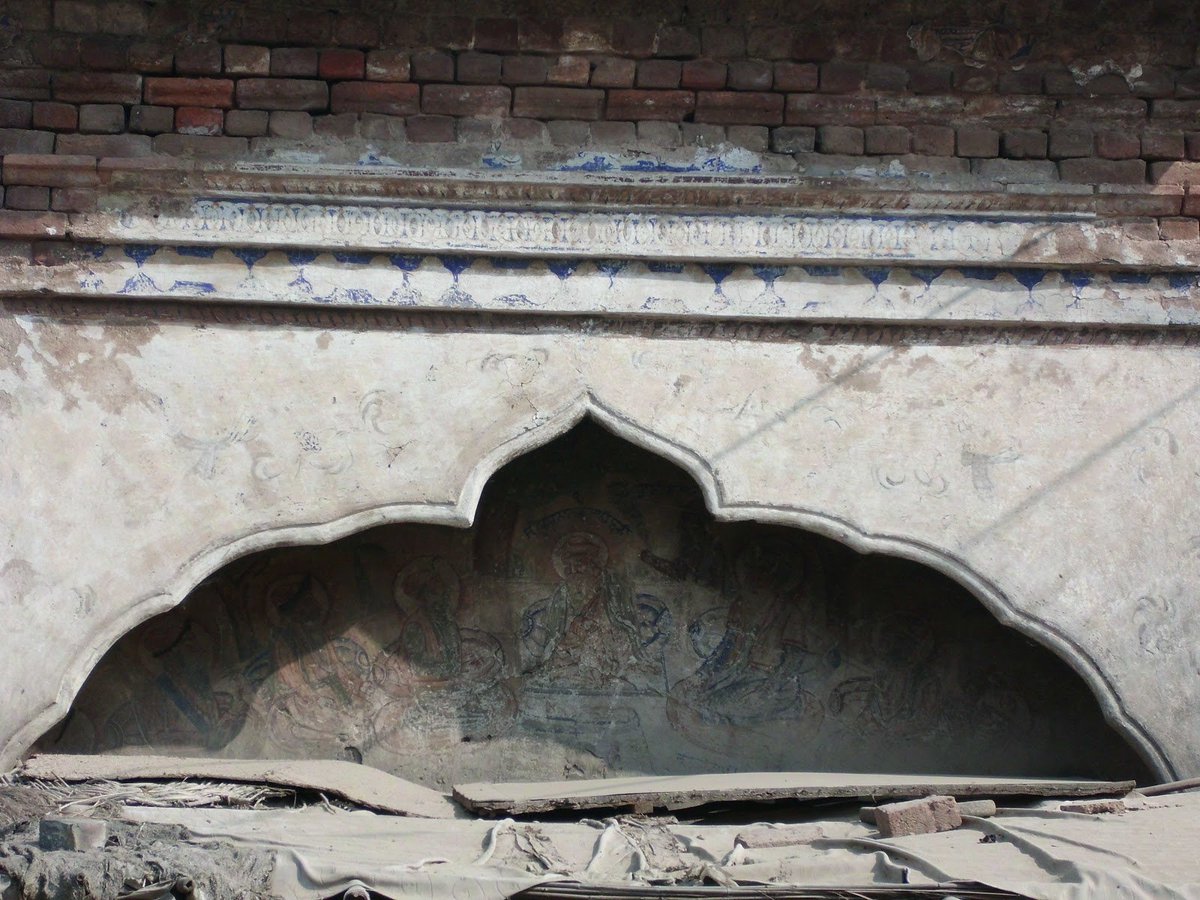 Gurdwara Bair Sahib, Sialkot.
Religious zeal hasn't left this beautiful a structure as well.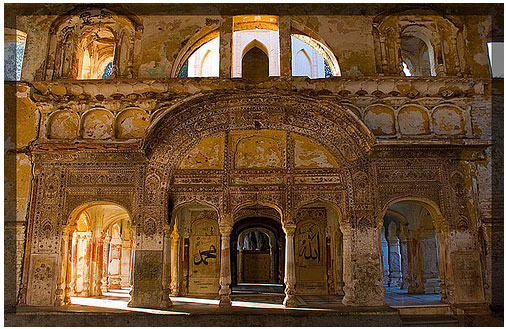 Gurdwara Kair Sahib, Jaisak, Mandi Bahauddin District, Pakistan
Walls of the Gurudwara are being used for drying cow dung.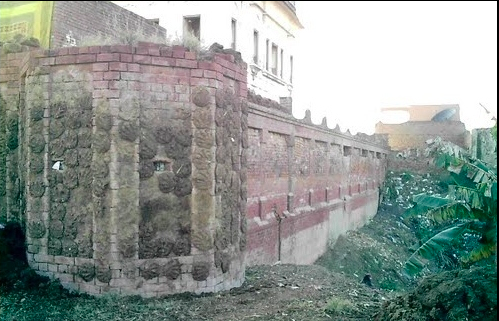 Gurdwara Kair Sahib, Jaisak, Mandi Bahauddin District.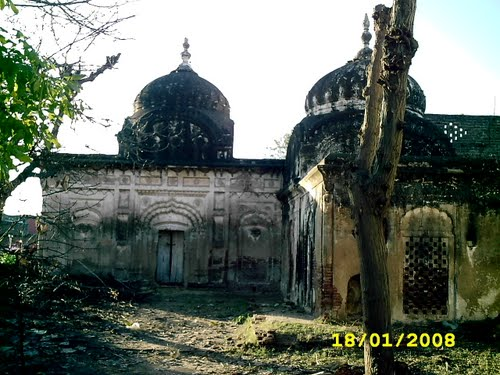 Gurdwara Chowa Sahib (Rohtas), Jhelum
Gurdwara Chowa Sahib (Rohtas), Jhelum is an abandoned gurudwara located at the northern edge of the Rohtas Fort, near Jhelum, Pakistan. Situated near the fort's Talaqi gate, the Gurdwara commemorates the site where Guru Nanak is popularly believed to have created a water-spring during one of his journeys known as udasi. The pictures of this historic site in this dilapidated state brings tears in the eyes. Its adjoining lands are taken over by local Muslim farmers who do not allow any Sikh devotees to venture in the area.
Gurdwara Sixth Guru, Buzurgwal, Gujrat District.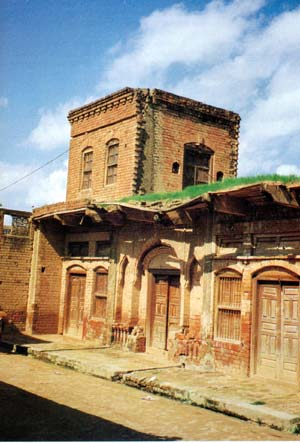 Gurdwara Manji Sahib (Deokay), Sialkot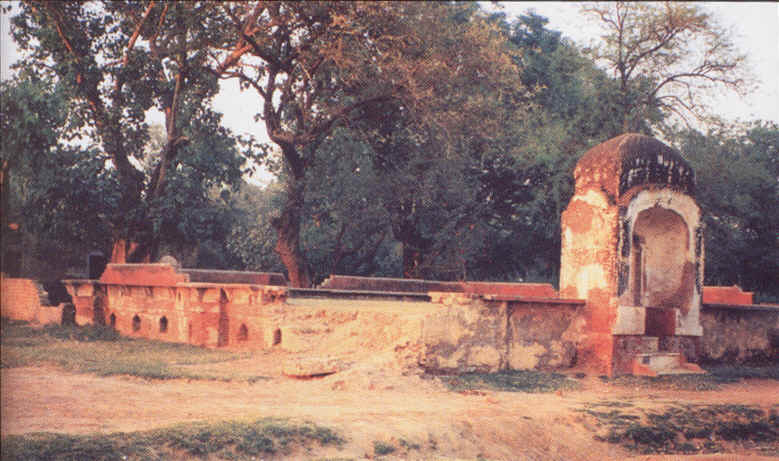 Currently, Municipal Library, Mansehra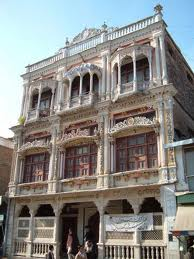 Samadhi of Maharaja Ranjit Singh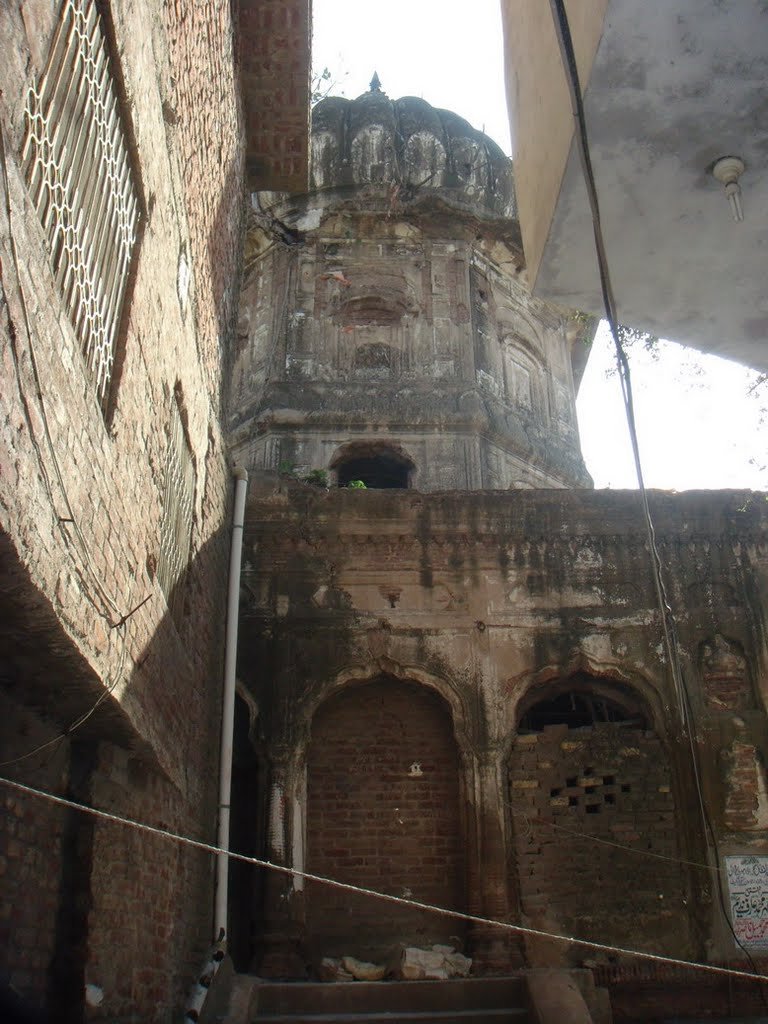 Gurudwara Damdama Sahib again
Comments are self explanatory.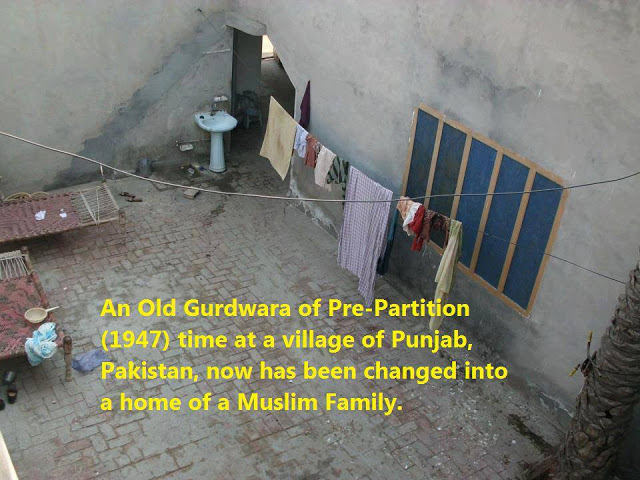 Gurudwara Chhevin Patshahi, Hadiara, Distt Lahore
This is the fate of the Gurudwara built in commemoration of Guru Nanak visiting the place proudly declaring "Ibadat Sirf Allah ki Karein"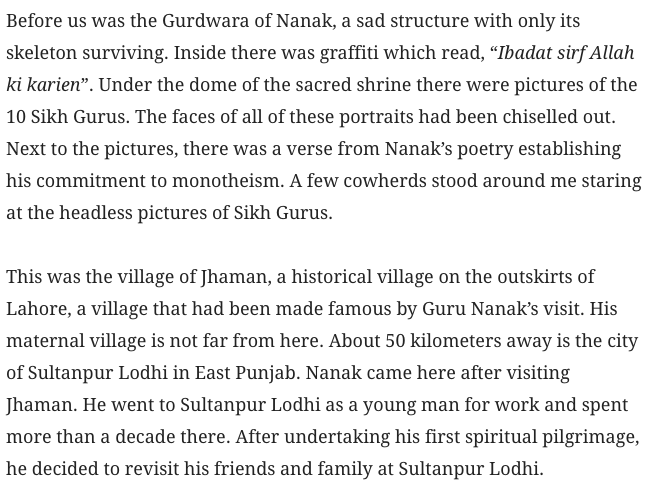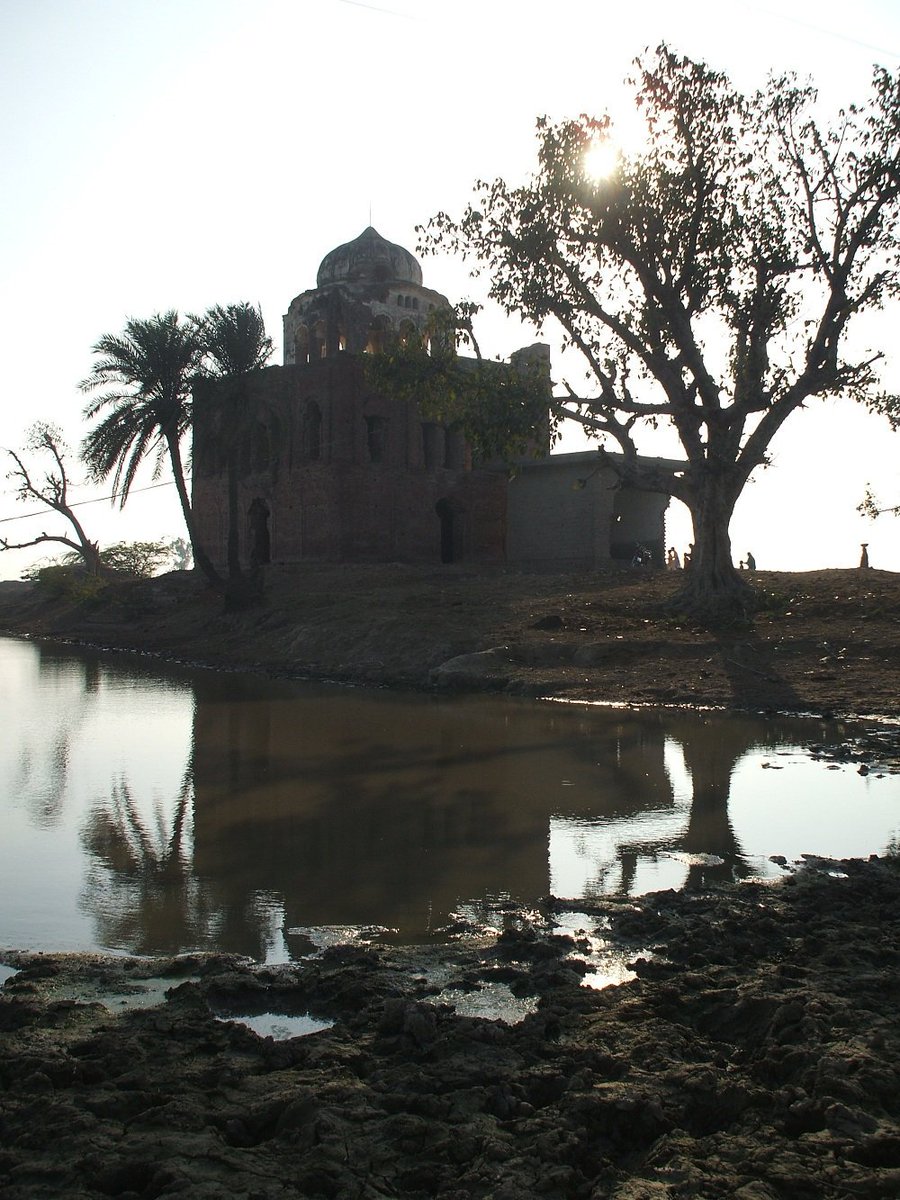 Gurdwara of Guru Hargobind at Padhana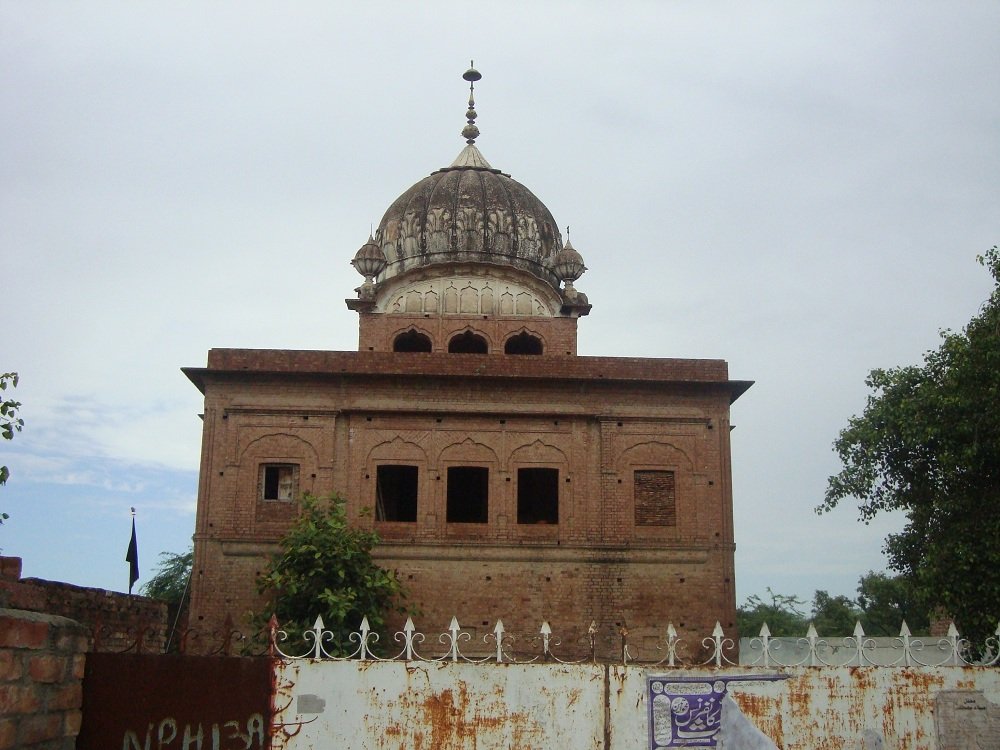 These are some havelis from Khalsa Empire, for example. First one is from Padhana and the second one is Ranjit Singh's birth place. Whether you like it or not, they are part of Sikh history.
Haveli of Sardar Javala Singh, a prominent General under Maharaja Ranjit Singh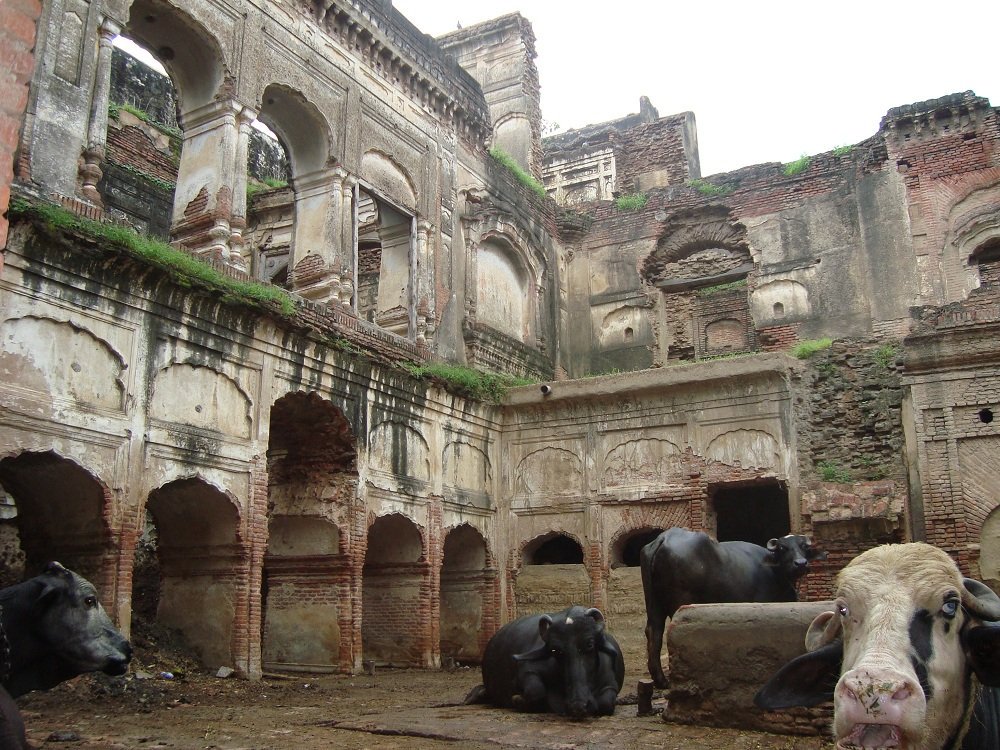 This is how they treat Gurudwaras – like trash. Not just Gurudwaras, Sikh girls and their modesty, even from the families of Sikh Priests. She is kidnapped in August and forcibly converted, govt said she will be sent back, she hasn't been sent back and she will never be sent back
Don't be deluded it's 75 years ago and things changed. Nothing changed even now.
As per one Khalistani Muslim, Ajmer Singh Randhawa who is also running the propaganda on behalf of Pakistan Intelligence Agency ISI to foment trouble in India and incite Indian Sikhs to violence, 17,500 Acres of Land s still registered in the name of Guru Nanak. Pakistan Government mouth piece, this Khalistani muslim every year makes a tweet to satisfy his delusion that 17,500 Acres of land still belongs to Sikhs. However he himself says that the land is occupied by Muslims who give nominal rent to the Gurudwara.


Just imagine what should be the rent of 17,500 Acres of Land? Then why are Sikhs in Pakistan are in pathetic condition and are being hunted, their daughters forcefully abducted, forcefully converted to Islam and forcefully married to Radical Islamists? We will cover the atrocities on Sikhs and their condition in Pakistan in our future article. If you notice in his tweets, he intelligently says the 17,500 Acres of Land will be used to construct Punjab University. When Sikhs are not even allowed to build a cremation ground for burning their dead, would Islamist Radical Nation Pakistan be gracious enough to let them construct Punjab University for Sikhs only? Unbelievable. A question is being raised, why doesn't Pakistan Government construct a big Mega City on this 17,500 Acres of Land and settle all the Sikhs living across Pakistan in this Mega City?
Anyone raising such demands is forcefully disappeared or killed by the Pakistan Intelligence Agency. If the Sikhs have to survive in Pakistan, they have to say whatever Pakistan Intelligence Agency tells them to do.
There is a growing demand for Khalistan (a separate nation for Sikhs) in Pakistan. All the Sikh Gurus were born and spent most of their lives in Punjab province of Pakistan. Sikhs around the world have raised demands to create a separate nation carved out of Punjab in Khalistan and have released a map.
Once this demand increases, there are lakhs of Punjabi Muslims in Pakistan whose ancestors were forcefully converted to Islam, thousands of females who were forcefully abducted and forcefully converted to Islam and forced to marry Islamist Radicals. All these people would like to return to their roots. As a result the demand for the Punjabi Language to be made the national language of Punjabis is also increasing. There are millions of Sikhs residing in Western Countries like UK, EU, Canada, US. All want to be connected to their roots. Hence a separate nation carved out of Islamist Radical Pakistan would satisfy all the aspirations of Sikh community living abroad.
Follow us at:-
Twitter Handle: @communique_news
Parler Handle: @newscommuniquecom
Subscribe our : YouTube Channel https://www.youtube.com/channel/UCnKJQ3gFsRVWpvdjnntQoAA
Like our Facebook Page https://m.facebook.com/News-Communiquecom-103788531007438/